Facilities
The Bhagirathi institute have excellent modern infrastructural facilities to achieve best academic ambience. In addition to class rooms we have best Laboratories to impart the quality practical knowledge, Research and Innovation related to course to course curriculum, equipped with latest Lab Equipments, Also there is a huge Central Library in addition to respective course libraries. The whole Campus is having the facility of Wi-fi connectivity
CENTRAL LIBRARY

The Library plays a vital role in providing & nurturing knowledge and aiding in learning & teaching activities. The Bhagirathi institute has a well established library with the latest editions of book by eminent authors & is having a huge collection of books and journals on engineering, pharmacy to cater to the needs and requirements of students as well as faculty members
Bhagirathi institute has managed to build a wonderful collection of books relevant to each subject which is being taught at the institute. Magazines as current affairs, competitive exams etc are also available in the reading room..
Our institute provides BOOK BANK facility wherein all the students are being given a set of text books every year.
CENTRAL WORKSHOP

We have a fully developed and functional workshop to let the students have hands –on feel of basis engineering operations. The Central workshop has been split into Welding, Foundry, Fitting, Carpentry and Sheet metals sub-shops to let the students have practical engineering exposure
COMPUTER CENTER

The Computer centre is designed and equipped so scientifically that students can spend hour together at the terminal without fatigue. Computer Lab is equipped with the latest technology computers with scientific, technical and engineering software for the engineering students
ULTRAMODERN LABORATORIES

Laboratories are important components of the teaching learning process because using them several experiment-oriented problems can be solved easily. Bhagirathi institute have well equipped labs including Communication Skill Lab, Physics Lab, Chemistry Lab, Electrical Circuit Lab, Control Lab, Instrumentation Lab, Theory of Mechanics, Thermodynamic lab, Strength of Materials, Manufacturing Process Lab, Fluid Mechanics Lab, Engineering Material and Metallurgy Lab. Individual attention is given to every student so that they can get excellent knowledge in their specific field
HOSTEL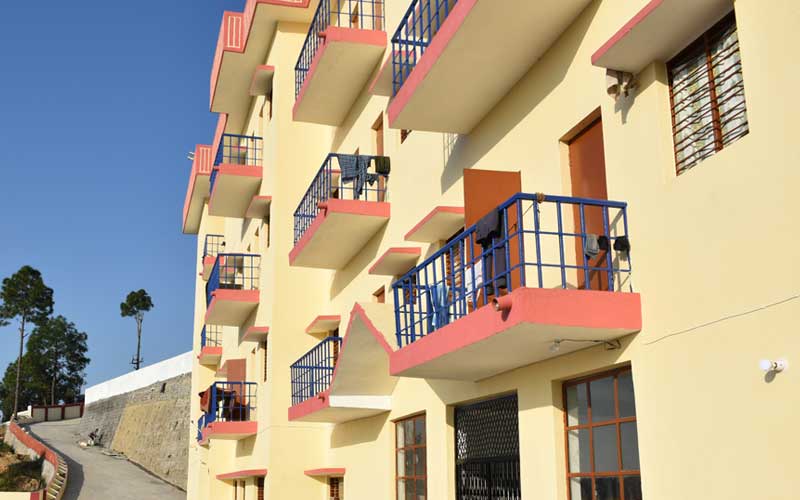 Bhagirathi institute excellent hostel facility for the students. We understand that most of our students are moving away from home for the first time so we strive to make the transition as smooth as possible by offering comfortable and safe hostel inside the college campus and each room is spacious. Accommodation in hostel will, however, be available on first- come- first serve basis.
TRANSPORT FACILITY
Transport facility is provided by our institute to Lohaghat region and adjacent areas.
SCHOLARSHIP
Institute students to achieve their carrier opportunity by giving them scholarship based on their rank in talent search examination. Institute also provide scholarship for the brilliant students with poor economic background. ST/SC & OBC students are eligible to get scholarship provided by state or central government.